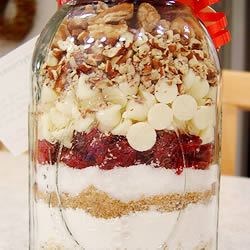 With Christmas on it way I thought now would be a good time to repost this. It was first posted about a year ago when I had only 45 followers. So hopefully this will be new to some of you.


Cranbeery choclate chip cookie gift jar
Ingredient
5/8 cup all-purpose flour
1/2 cup rolled oats
1/2 cup all-purpose flour
1/2 teaspoon baking soda
1/2 teaspoon salt
1/3 cup packed brown sugar
1/3 cup white sugar
1/2 cup dried cranberries
1/2 cup white chocolate chips
1/2 cup chopped pecans
Directions
Layer the ingredients in a 1 quart or 1 liter jar, in the order listed.

Attach a tag with the following instructions: Cranberry White chocolate cookies 1. Preheat oven to 350 degrees F (175 degrees C). Grease a cookie sheet or line with parchment paper. 2. In a medium bowl, beat together 1/2 cup softened butter, 1 egg and 1 teaspoon of vanilla until fluffy. Add the entire jar of ingredients, and mix together by hand until well blended. Drop by heaping spoonfuls onto the prepared baking sheets. 3. Bake for 8 to 10 minutes, or until edges start to brown. Cool on baking sheets, or remove to cool on wire racks.
I found this recipe on all recipe .com I love it!